Two Boats and a Lagoon
Ocean First has been a pioneer in the dive industry for over 15 years, and we've brought that same level of progressive excellence and environmental stewardship to our Key Largo location. So whether you are learning to dive, seeking to explore beautiful reefs and shipwrecks, or participating in one of our citizen science research projects at Ocean First Key Largo, you're bound to have an experience that lasts a lifetime.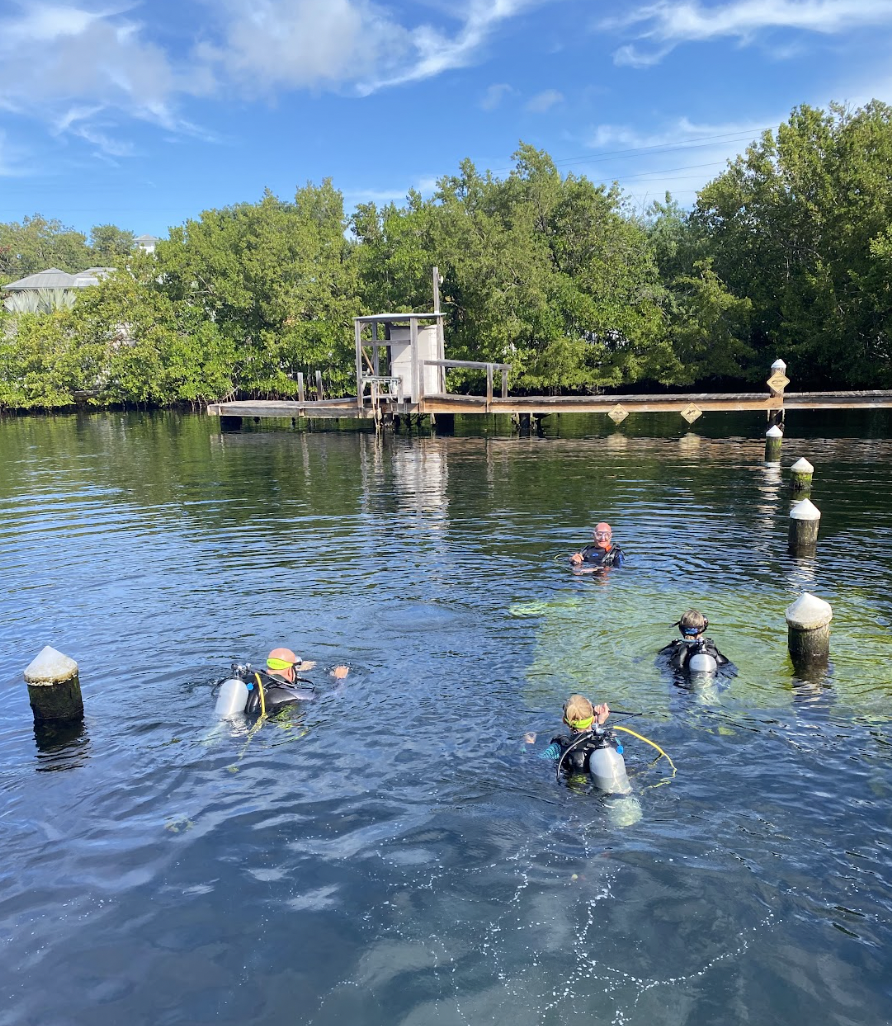 Our Boats
Ocean First operates two 30' US Coast Guard-approved Island Hopper charter boats. These spacious boats are customized to comfortably deliver divers and snorkelers to dive sites in and around the Florida Keys. Each dive boat can accommodate 12 divers, and our experienced crew and instructors ensure your safety is our #1 priority while enjoying some of the best diving Florida offers.
The Lagoon
Ocean First is located at Key Largo Undersea Park, home of the world-famous Jules' Undersea Lodge. The Lagoon has a max depth of 28 feet/8.5 meters, making it the perfect environment for a refresher dive, equipment check, or additional skills training before heading out to the open ocean. We have resident manatees living in the lagoon, as well as many other exciting fish species and seahorses to see when training with us.
Our Team
• Mark "Sharky" Alexander - Captain/ Scuba Instructor

• Lauren Tracy - Divemaster/ Marine Biologist

• Alisia Carlson - Scuba Instructor/ Photo Pro

• Jason Jones - Captain/ Scuba Instructor
Our Partnerships
The Ocean First Family is a group of organizations passionate about increasing ocean awareness and literacy and providing ways for our community to become impassioned stewards of their marine environment. Ocean Fist Key Largo has two sister organizations that help educate and empower our communities to make a difference.

Ocean First
A full-service Swim, Scuba, and Travel center in Boulder, Colorado, since 2008. Ocean First is a powerful ecosystem where swimming, diving, adventure, education, and preservation unite to form a unique community. So whether you bring your child for swimming lessons, get certified, or travel across the globe with us, you can expect the same level of attention, safety, and compassion.
Ocean First Institute
OFI is an environmental nonprofit that works to preserve ocean ecosystems with research-driven conservation efforts and educational outreach.

Conservation: OFI strives to conserve endangered species by working with local partners to achieve conservation goals and engage the public.
Research: OFI research projects focus on fundamental questions about the natural world and the intricacies of how species interact with their environment.
Education: OFI's core mission is to impart knowledge and provide experiences for youth to engage in meaningful marine science in the classroom and the field.
MarineLab Partnership
Marine Resources Development Foundation (MRDF) is a 501(c)3 organization founded in 1970 by Ian Koblick. Its mission is to promote responsible and sustainable use of marine resources through education, research, and collaboration. Currently, its MarineLab environmental education program reaches over 5,000 students and teachers annually from 29 different states and various Caribbean countries, who spend up to five days at its facility located in Key Largo in the Florida Keys.
How To Find Us
Ocean First Key Largo @ Key Largo Undersea Park | 51 Shoreland Drive Key Largo FL 33037
From Miami Airport
Take SR-836 West to Florida Turnpike South.
Continue on the Florida Turnpike for 24 miles to the end.
Merge onto US 1 South to Key Largo
Make a left onto Transylvania Ave between Mile Marker 103 & 104
Take Transylvania to the end. Key Largo Undersea Park is on your right, after the Lagoon.
From Ft. Lauderdale Airport
Take I-595 West to Florida Turnpike South.
Follow the Florida Turnpike for about 48 miles to the end.
Merge onto US 1 South to Key Largo
Make a left onto Transylvania Ave between Mile Marker 103 & 104
Take Transylvania to the end. Key Largo Undersea Park is on your right, after the Lagoon.