Finding the Key to a Quick Scuba Weekend
Ocean First Jul 05, 2022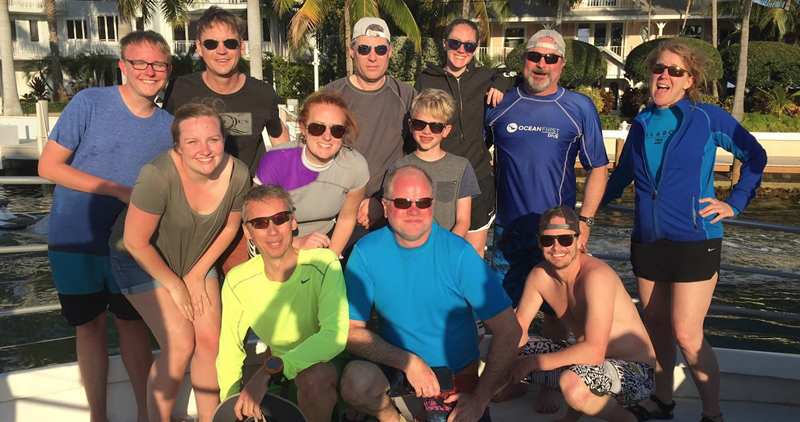 If you've ever wanted a vacation in the tropics without hurting your wallet, our quarterly trips to Key Largo might be just what you're looking for! This past March, 14 divers of all skill levels set out for a weekend intensive of diving and cruising through the keys, with lots of certifications in mind. This was a quick Thursday-Sunday trip, making it optimal if you're unable to take a lot of time off of work.
After a short flight from Denver to Ft. Lauderdale we hopped into our shuttle and drove down the Florida coast to Key Largo. Our hotel was right on the marina, with our boat only a few hundred feet from our door! As the rest of the group arrived, we all met down at the tiki bar for pina coladas, margaritas, and daiquiris before we headed out to dinner. With lots of restaurants surrounding our hotel, we chose Mrs. Mac's Kitchen for some of their famous key lime pie. It definitely lived up to the hype!
Our first day of diving, the weather was perfect. 80 degrees and sunny with minimal wind, leaving the swells to less than a foot high which was perfect for our new divers. This being my first ocean dive, I felt nothing but excitement as we descended below the surface, allowing the peaceful silence to engulf us. The Benwood wreck was our destination and we had two divers working towards their Navigation certification leading the way. As we happened upon the WWII shipwreck, we could clearly see where her hull was used for bombing practice, the wood jagged and eroded. Sponges, sea fans, sea whips and fire coral grew from the bow lying at 25 feet, and dotted all the way down to the stern that lies at around 55 feet in depth. Because of the depth range, even our Junior Open Water divers could join on this one! After exploring around the Benwood for a bit, it was back up to the boat and onto 3 more reefs. Parrotfish, blue tangs, groupers, triggerfish, barracuda, and eels teemed these reefs, and we even saw a lionfish!
After 4 dives in one day under our belts, we were off to a delicious, fresh seafood dinner and then right to bed for some much deserved rest. The next morning was another early, bright and clear day. The first dive on this day was down to the USS Spiegel Grove, a 500 foot retired Navy ship purposefully sunk to create the backbone of a new reef ecosystem six miles offshore. This is where I got my Deep Diver certification, as this ship lies between 100 and 135 feet! We were told ripping currents were the norm, but we lucked out with almost no current at all and we were able to explore the stern and crow's nest before we needed to ascend to the surface. We followed this dive with 3 shallow dives at French Reef and Molasses Reef, where the other divers completed various certifications. It was this day we saw the biggest wildlife: a few turtles and a few nurse sharks!
Due to the amount of shallow diving Key Largo offers, this is a great location for beginners who want to experience diving out of landlocked Colorado without breaking the bank. As for our more experienced divers, there's still plenty to see! We totalled 17 certifications that weekend including: Junior Open Water Divers, Navigation, Deep, Wreck, and Stress and Rescue. An Ocean First record! Even one of our swim instructors, Jenny, completed her Master Diver certification!