Ocean First in the Solomons 2017
Ocean First Jul 05, 2022
When is the last time you unplugged from the grid for a solid 12 days and felt like you transcended into another place and time? It takes a bit of adjustment, but it is liberating and quite refreshing. This is what our recent trip to the Solomon Islands in April was all about: reassessing what you really need and being introduced to a fascinating culture in the middle of the Solomon Sea.
14 intrepid explorers descended upon the bustling city of Honiara, Solomon Islands after a trans-Pacific journey via either Brisbane, Australia or Fiji. As each group arrived the familiar feeling of excitement and anticipation grew; we knew we were in for a real adventure!
We started off with a tour of World War II battlegrounds and relics that are scattered about the island of Guadalcanal. The Solomon Islands are strategically located between the South Pacific & Australia, making it a target for the fast-moving Japanese Imperial army. Allied forces joined together in a series of fierce battles, securing the Solomons. There are memorials around Honiara as well as planes and artillery remnants deep in the jungle. Our guides were superb, explaining the interesting history of the area.
After a lengthy lunch that was clearly on "Solomon time" we were picked up by the crew of the Bilikiki and whisked away for an arduous 5 minute bus ride to the tinnies (aluminum tender boats) that would take us to the Bilikiki live-aboard, our home for the next 10 days. The Bilikiki has been operating exclusively in the Solomons for over 20 years and has a stellar reputation. After a thorough briefing and popcorn snacks we were shown to our cabins. We settled in for an evening of setting up dive gear and taking over the salon with more camera equipment than Mike's Camera's entire inventory. Well.. not quite, but close.
Diving in the Solomons can best be described as a hard coral heaven. Many of us have been fortunate to dive some of the world's top dive sites, but we had never seen an area that is dominated by so many hard coral species. Our first day of diving treated us with an amazing dive through a narrow cut where the sunlight poured through the opening above, creating an ethereal view of sparkly rays penetrating the water column. It was mesmerizing! The cut ends in inside the island were you can come up and have a look at the jungle above you. We struck gold with clear water and the timing was perfect as the sun was directly overhead. As we exited the cut we came into a beautiful coral garden that epitomizes Solomon Island diving: hard corals galore filled with reef fish, cuttlefish, a turtle here and there, and clear, warm (86F!) water.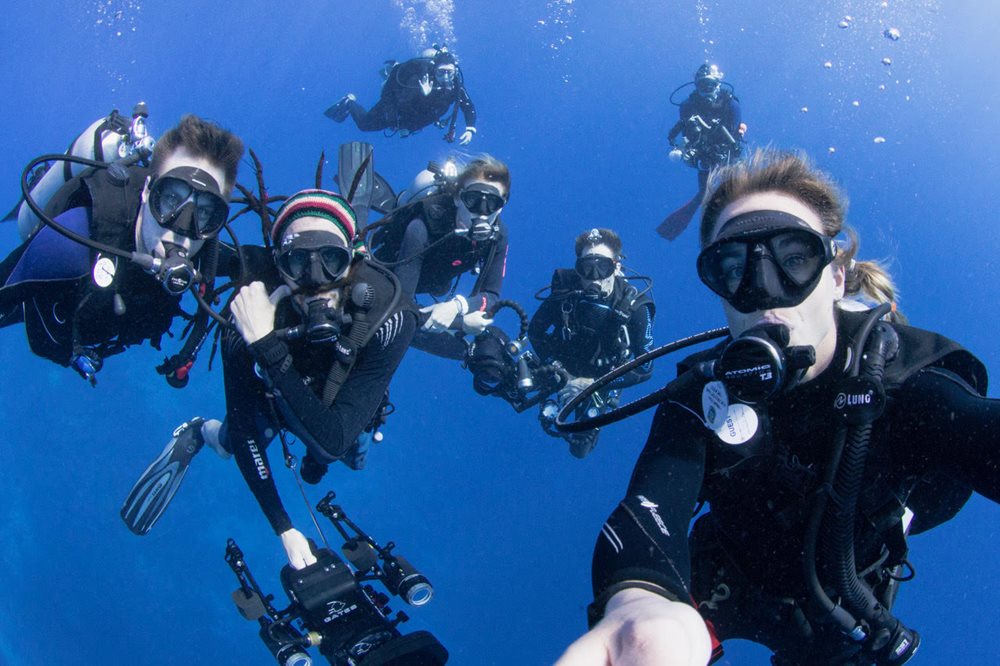 We moved locations regularly to get to the best dive sites. Our traverses were often met by pods of playful Spinner dolphins that clearly were expecting the Bilikiki to come through the area. Numerous dolphins could be seen making their way to our bow wake from far off. It was so awesome to have 20+ dolphins (with babies!) riding the bow, giving us all great views of their expert surfing ability. Nothing makes you feel better than seeing dolphins… instant happy face!
Perhaps the best part of the whole trip was meeting the local people of the Solomon Islands. Frequently throughout our trip we would return from a dive only to find several dugout canoes had tied up to the Bilikiki with mounds of fresh fruit and vegetables to sell to the cooking staff. There were adorable children and beautiful women selling enormous papayas, green beans, eggplant, bush limes, leafy greens, pineapples, and so much more. The produce could not be any fresher and it was amazing to watch the friendly negotiation between our crew and the vendors. To say that our meals were nutritious would be an understatement! Years ago the owners of the Bilikiki came to the villagers with seed packets and encouraged them to start growing fruits and vegetables with the agreement that the Bilikiki would come by weekly to purchase fresh produce from them. The boat does not buy produce in Honiara; only from the local villages. This provides the locals with steady income and the live-aboard with guaranteed fresh fruit and vegetables. It is clearly a resounding success on both sides and gave us tourists a wonderful experience as well.
We were also introduced to local artisans who create exquisite wood carvings: bowls, walking sticks, wall hangings and jewelry. They are true artists and many of their pieces take months to complete. Some of our group spent extra time in one village to interview a few folks and get some great footage of regular, daily life. On one of our last days we were invited to an immaculate village where we were entertained with traditional songs & dances by both the men and women. As in many places, traditions are being lost with the younger generations and the older folks are trying very hard to keep these traditions alive. We were greeted by delightful children who gave us each a lovely flower lei and fresh coconuts! It was a wonderful experience and a very memorable visit.
This was a fantastic dive adventure with a perfect combination of great diving, WWII history, and memorable cultural interactions. Our group was super fun and I believe we can all agree that we consumed enough popcorn to last a while. Our planet is not really all that big when you simplify your life a bit and connect with the people who live in these amazing places. None of us can make a difference alone and a little patience and understanding goes a long way.
Thank you to everyone who joined Ocean First on this trip! Until the next adventure…
Ami