Magdalena Bay, Sardine Run
October 29 - November 5, 2023
An adrenaline-packed, epic adventure to witness one of the ocean's great spectacles: the sardine run and ensuing feeding frenzy.
Starting from
Availability: Contact us for booking information
* 2 spaces available *
Skill Level: Snorkeling and Diving
Nautilus Liveaboards - Gallant Lady
Trip Leader: Drew Herrick & Cathy Christopher
During October and November a magical event happens in the nutrient rich swirling blue waters off Magdalena Bay along the Baja Peninsula in Mexico. Striped marlin gather to hunt on the second largest sardine run in the world, generating unimaginable & spectacular underwater action! There is an excellent change of also seeing California sea lions, several species of dolphin and seabirds, wahoo, blue and mako sharks, and potentially hundreds of turtles at the surface. This is a unique experience that only occurs a couple of months out of the year! The baitball experience will be primarily snorkeling but there will also be opportunities to scuba dive at some of the various shipwrecks along the cruising route, including the remnants of a WWI submarine. If all of this wasn't enough, humpback whales are on the move at this time of year with good chance of seeing them along the route. If we are really lucky we may even encounter orcas or blue whales! This is an adrenaline packed adventure and a very special, unique trip! Space is limited to only 10 guests.
Trip Inclusions
7 nights accommodation
All snorkeling and diving
All meals
Complimentary use of kayaks
All taxes
Complimentary pool session at Ocean First
Ocean First trip leaders
Not included:
Roundtrip airfare Denver - Cabo San Lucas SJD
Meals not specified above
Alcoholic drinks
Port fee $65USD/person
Crew gratuities
Baggage fees
Any unforeseen cost at the time
of booking.
Travel insurance - strongly recommended
Dive accident insurance - required
Trip Cost
$4,175 superior suite, double occupancy (6 spaces)
$4,675 premium suite, double occupancy (2 spaces)
Payment Schedule
Nonrefundable deposit required to reserve: $1,000
$1,500 due May 1, 2023
Final payment due September 1, 2023
Passport must be valid for 6 months after departure date
Cancellation Policy:
Changes made to the reservation may result in additional fees.
Cancellation 180 days or more: refund given based on reselling the space, minus the initial deposit.
179 - 120 days: payments made to date are forfeited as well as any vendor fees.
119 days or less or a no-show: no refunds given.
We strongly recommend securing trip cancellation insurance to protect your investment in the unlikely event you need to cancel your trip. Our preferred provider is DAN Trip Insurance.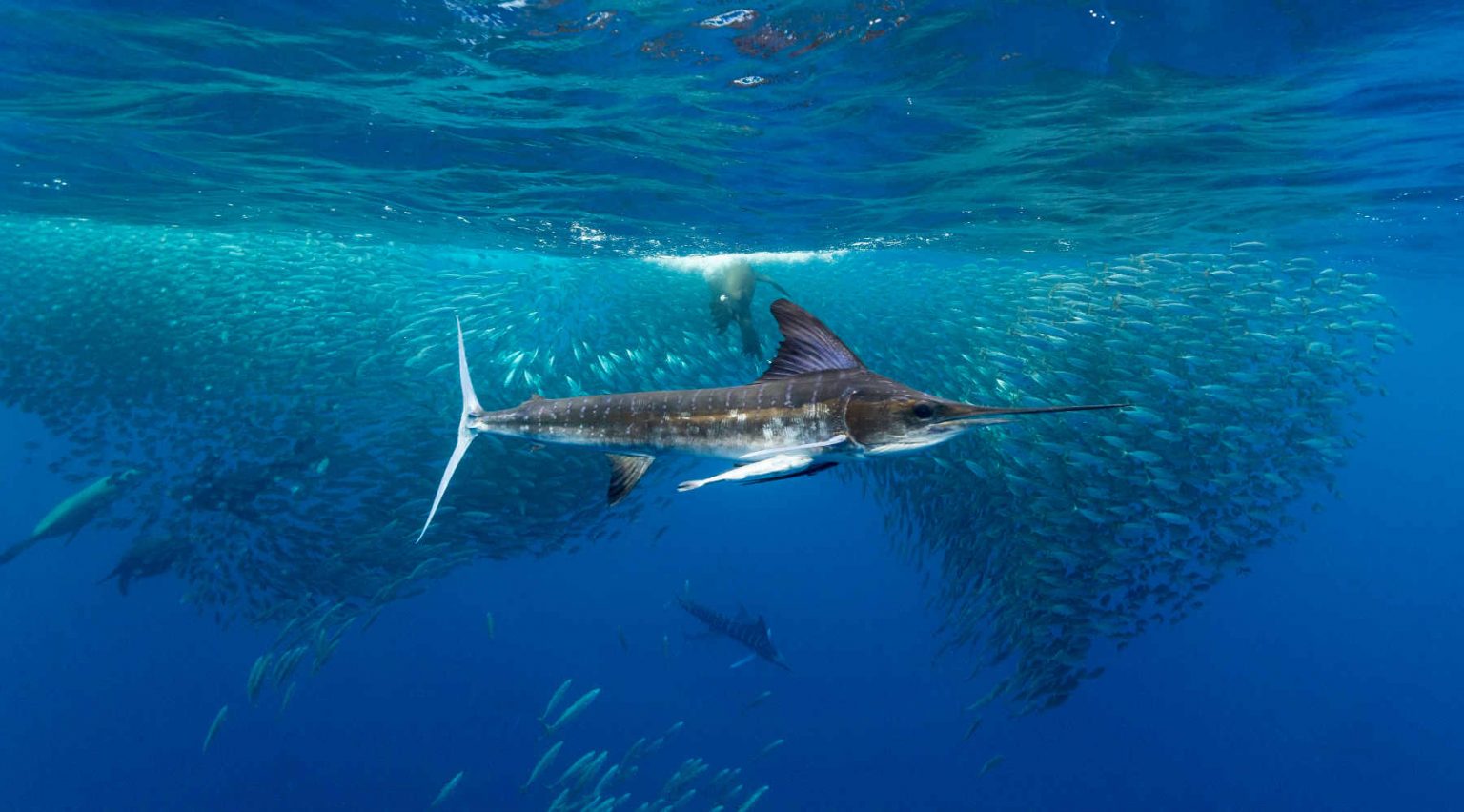 0 reviews for Magdalena Bay, Sardine Run